Spray Tan
Spray Prices:
Best days to redo your spray will be Thursdays and Fridays. Pre-book your appointments NOW!!!
1 Spray Tan – $24.00
Pre tan:
1. Exfoliate really good the morning of.
2. No moisturizer except dry areas, knees, elbows, ankles, and hands.
3. No makeup. (eye makeup is ok)
What to wear spray tan:
1. Loose dark clothing. We prefer long sleeves and pants. (Tanks and shorts are ok, but it is really easy for you to touch your skin and stain your hand).
2. Flip flops
3. A black (dark colored) panty or bathing suit.
4. No bras, wear a cami if you need some support.
After spray tan:
1. Do not get wet, no shower, no tubs – nothing that will make you sweat or get wet… for at least 8 hours after spray tan. (Sex or exercise included).
2. You will get increasingly darker over this period of time. Its ok.
3. Do not touch yourself with your hands the bronzer will come off on your hands.
4. When you shower do not scrub or use exfoliation products.
5. Pat dry with towel, do not scrub yourself.
6. Do moisturize with a bronzer lotion if you can it will make the tan last much longer. Regular is fine, just won't prolong the tan as long.
7. Enjoy!!!
Tanning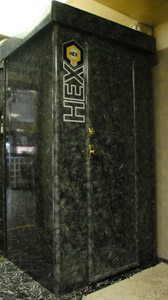 Hex II Stand Up Tanner – 48 bulbs to surround you for the most even tan you've ever seen. The Vortex fan to keep you ventilated and you can imagine you are on a beautiful beach, and jam to some fun music while you are inside for a short max time of 14 1/2 mins.
1 tan – $7
5 tans – $26
7 tans – $36
10 tans – $47
15 tans – $67
20 tans – $77
*Due to the overwhelming success of our tanner, we like to accommodate as many customers as we can. Please give us at least 24-hours notice on cancellations to avoid a 1 tan deduction from your package. Thank you for your cooperation.